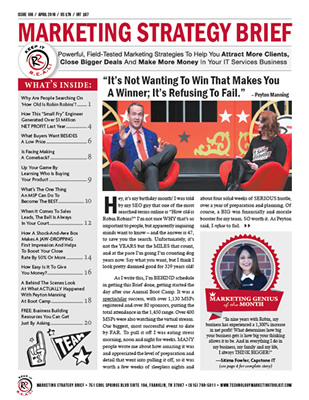 Every month you'll receive a 16 page report packed with new sales strategies and marketing examples that you can put to use immediately in your business.
I'll cover every imaginable marketing and sales tool including direct mail, web site strategies, e-mail, pay-per-click search engines, yellow page ads, trade shows, networking events, brochures, sales scripts, and more.
I'll also send you examples of successful marketing campaigns used by your peers and explain why they work, how they work, and how you can put them to use in your business for immediate results. Where else can you get a monthly flood of instant money-making ideas specific to your business?
Monthly Marketing Strategy Brief Sample
Click here
to download a sample of this monthly report.